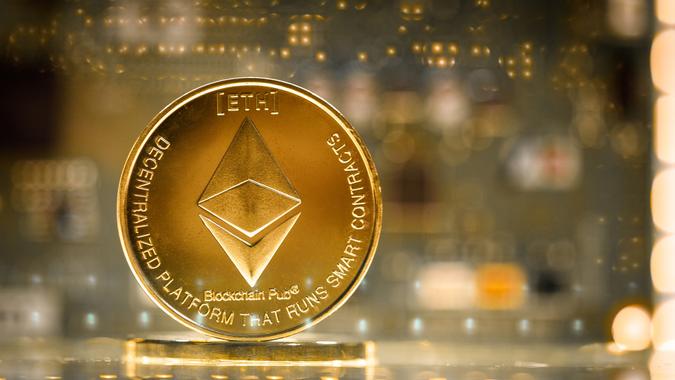 Capuski / Getty Images
When it comes to Ethereum price predictions, the development of the cryptocurrency has the potential to push the price to highs of up to $4,500 by 2022. However, a continuous downtrend has formed. The uncertain macroeconomic environment could continue to push prices lower easily.
What is Ethereum (ETH)?
Ethereum is a layer-1 blockchain solution and the second most valuable cryptocurrency globally by market cap. Ethereum's decentralized ecosystem focuses on banking, gaming, and app creation, earning it the nickname "the world's programmable blockchain."
How Does Ethereum (ETH) Work?
Wondering what Ethereum can do? As the native cryptocurrency of the Ethereum blockchain, it is used for transactions in more than 4,000 decentralized applications built by the developer community. Validators also receive rewards in Ethereum in exchange for securing the network, storing data, and processing transactions.
Many holders choose to keep Ethereum tokens in the hope that as the network grows, so will the value of each Ethereum token. Ethereum holders can also "stall" their crypto with leading exchanges like Binance and Coinbase to earn interest on the asset.
Ethereum (ETH) Price Prediction 2022
Investors can examine Ethereum price predictions from two angles: a bull case and a bear case. Bullish analysts expect Ethereum to hit $4,500 by 2022. Bearish forecasts believe Ethereum will drop to the $600 level in the near future.
Bull Case for Ethereum (ETH)
Ethereum adoption has increased drastically in recent years. It is a leader in terms of number of developers and growth in transaction volume. In addition, brand recognition has increased, and the price has increased significantly.
There are now 527 crypto exchanges that process billions of dollars in transaction volume every day. Apart from exchanges, neobanks like Revolut and established fintech giants like PayPal have joined the crypto revolution to cater to customer needs. Crypto is becoming more accessible in general, and for Ethereum — as one of the most prominent crypto assets — this is profitable.
However, perhaps the most exciting development this year is "The Merge." The Ethereum merger will shift Ethereum from the existing proof-of-work mechanism to proof-of-stake. This is a major milestone as part of the rollout of Ethereum 2.0, which aims to increase scalability as well as reduce transaction costs.
Currently, 300 transactions are processed per second on the Ethereum blockchain. With this increase, that number is predicted to grow to 100,000.
Last but not least, the main measure to check is the crypto fear and greed index. The indicator shows the market is currently in the territory of "Extreme Fear". With demand very low at the moment, this could indicate a market rally on the horizon, potentially making it a good time to buy.
Bear Case for Ethereum (ETH)
One of the main concerns is the macroeconomic environment. Nearly all asset classes declined in the first half of 2022, suggesting market risk-off is underway. The fear of a "Crypto Winter" has emerged as a result. Ethereum transaction volumes have slowed in recent months, possibly due to concerns over pulling back on consumer spending overall.
The founder of Ethereum himself, Vitalik Buterin, has also recently expressed concern about the vibrant NFT trading. Many marketplaces like OpenSea value NFT on Ethereum. So, if there is a decline in the NFT wave, which is closely related to the crypto, it could result in negative consequences on the price of Ethereum due to the sell-off.
In addition, Ethereum faces increasing competition from other layer-1 blockchains, all of which perform similar functions. This includes:
Ethereum has been criticized for its scalability inefficiencies and high transaction fees. Some of these blockchain rivals – dubbed "Ethereum Killers" – beat it on certain performance metrics.
The collapse of Terra Luna also caused negative sentiment. The crypto market as a whole came under broader selling pressure due to a loss of confidence in May.
Expert Opinion
Several experts have considered the price of Ethereum.
Winkelvoss Twins on Ethereum
Tyler and Cameron Winkelvoss are the billionaire founders behind the Gemini crypto exchange. The pair has been predicting a "Crypto Winter" – a period of flat trading – in the near future. This is due to the uncertainty of the current macroeconomic environment.
Kevin O'Leary at Ethereum
It Shark tank billionaires have invested a small portion of capital in Ethereum and believe in its growth. However, he stated it will always be second best after Bitcoin, according to CNBC. O'Leary has diversified across several crypto assets and is an advocate for the space.
James Wang on Ethereum
Last year, former ARK Invest analyst compared Ethereum to Amazon Web Services in 2015. He has made an Ethereum price prediction that sees the possibility of hitting $40,000 per token one day.
Last Pick Up
Current developments such as inflation are likely to have a knock-on effect in the second half of 2022 for Ethereum. Despite having interesting developments on the horizon, Ethereum is unlikely to set a new all-time high this year. Even so, its long-term potential is still intact.
Ethereum Price FAQ
Here are some of the questions people are asking about the price of Ethereum.
How has Ethereum (ETH) historically performed?

Since its inception, the price of Ethereum per token has increased by more than 59,000%.

What is the expected price of Ethereum in 2022?

The conservative Ethereum price prediction estimates $1,826 per token. Experts with more aggressive targets saw the price hit $5,783.

How much is Ethereum worth in 2025?

The conservative Ethereum price prediction estimates $2,630 per token. Experts with more aggressive targets saw the price hit $11,764.

How much will Ethereum be worth in 2030?

The conservative Ethereum price prediction estimates $3,745 per token. Experts with more aggressive targets saw the price hit $23,372.

Is Ethereum going up in 2021?

In 2021, Ethereum rose from $730 on January 1 to $3,682 on December 31.
Accurate information as of 10 June 2022.
Our in-house research team and on-site financial experts work together to create content that is accurate, impartial and up-to-date. We fact check every statistic, quote and fact using trusted primary resources to ensure the information we provide is correct. You can learn more about the GOBankingRates process and standards in our editorial policy.